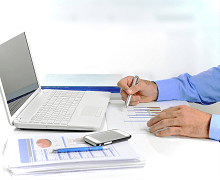 So you have a number of computers at your disposal – and you can use any of these to access your financial records anytime, anywhere. This setup basically means that you are operating a distributed system to tie in your overall business financial operations. This is how cloud accounting tools such as Xero, MYOB and QuickBooks empower business owners like you.
With the influx of more cloud accounting platforms and the modernizations in current versions of mainstream online accounting tools, it's easy to lose sight of the core of these online tools. Here's a quick rundown to refresh your memory:
Resource Sharing
In cloud accounting, sharing resources means having a collective access to the records stored in your software. In many instances, this is also seen in the simultaneous interaction between the client and the accountant. MYOB allows efficient collaboration between you and your adviser by synchronizing your contacts with Outlook or Address Book.
Openness
Constantly innovating technologies require convenient integration to ensure that new components can be easily incorporated into existing ones. If you are after a cloud accounting tool that considers third-party integration as a priority, Xero just might pique your interest. Xero has an open API feature which makes it relatively easy to integrate other applications into the system.
Scalability
Cloud accounting tools usually have scalability features to cope with increased demands. Take for example how Xero provides access to all the members of your accounting staff – and everyone else who needs to stay on top of your books. Xero offers this for free. You can also avail this feature on QuickBooks for an additional charge.
Fault Tolerance
Fault tolerance ensures the operative retrieval of files 24/7. Whereas traditional accounting systems are prone to errors and may be corrupted when the system encounters glitches, using cloud accounting ensures backup for your files. This form of data security is one of the most prominent reasons why many business owners have shifted to the cloud.
Transparency
When applied to cloud technology, transparency can be closely associated with clarity and availability of information. Practically every cloud accounting platform boasts of this feature – the ability to share and access stored data seamlessly without interference regardless of the number of users currently accessing the files.
Every cloud accounting tool has its own set of features beyond those that are mentioned in this blog. These features clearly define which cloud accounting software best suits your business, whether you're outsourcing your financial accounting in the Philippines or processing your own internally.
For additional resources on cloud accounting technology, contact D&V Philippines here.