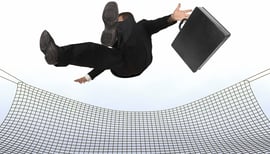 According to most finance and accounting services, if there is one word that carries a lot of weight across different businesses in the US, that word would be liquidity. To say that liquidity is important is an understatement. If your business lacks liquidity, you will not have adequate financial resources to pay for the upkeep of your business. To that end, the main goal here is to make sure that the provider of your financial management services know the value of a strong and reliable safety net.
Your business safety net

At a certain phase, your business will likely encounter a negative cashflow. Such an unfortunate situation could be the result of bad business decisions or the outcomes of a worsening economy. Either way, getting through a negative cashflow requires dipping into your cash reserves. And you can only do that if you have a business safety net.
The specifics of your safety net

So the question is, how much cash do you need to stash away for your safety net? If the truth be told, the answer to this question is not as easy as it seems. Initially, you need to consider the volatility of your business, the status of your sales, and the effectiveness of your payment collection method.
Assuming that your business is relatively stable, you could easily survive a negative cashflow if you have a safety net amounting to a couple of months' worth of your regular monthly outflows. On the other hand, if your business is volatile, you might need a larger safety net - at least six months' worth of your regular monthly outflows. Of course, these are all based on the assumption that while you are using up your safety net, you are also looking into implementing new strategies to improve your annual revenues.
Safety Net How-to's

In achieving a reliable safety net for your business, it is important to remember that your business expenses and how you manage your cashflow is vital to building your cash reserves. Hence, budgeting is a key element here. It would also be good to be mindful of the cash you have at hand. The rule of thumb is to invest or use the money you have at hand to expand your business operations. Your money earns interest better this way. In addition to that, you also need to look into how you can improve your credit collection program in order to earn more cash for your business.
A safety net can help your business go a long way. This is especially the case since we have a fluctuating economy. So now what are you going to do to build your cash reserves?
D&V Philippines understands the value of professional finance and accounting services to get your business running smoothly. Get in touch with our qualified advisers to find out more.