4 Signs that Your Business Needs Multi-currency Customer Invoices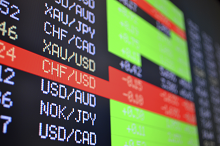 Having various transactions with international companies would imply trading in various currencies. Such trends include purchasing or selling goods in one currency, then receiving or paying for the goods in another.
As you deal with customers and suppliers in this scenario, multi-currency customer invoicing comes in – and of course, you wouldn't want to pay (or be paid) incorrectly.

Globalization, technology and international trade are trends that growing businesses like yours cannot afford to miss out on. Otherwise, your business will be invariably put to risk. If you are seriously considering the possibility of dipping a toe into multi-currency business transactions, you need to decide now if it's really a 'yes' or a 'no'. Here are some signs that your enterprise should indeed give multi-currency transactions a go.
1. Dealing with offshore suppliers
Having that comparative advantage is the most common reason why companies import materials from offshore suppliers; you get to enjoy benefits such as cheaper production costs, lower labor costs, and lower tax schemes – and those considerably cut costs and boosts profit margins.
2. Entering the multinational market
Once a company deems that it is stable and expanding, deciding to venture out to foreign markets could be one of the appealing options on where to go next. While it is a common thought that a company may just want to spend their profits on more lucrative opportunities, another way to look at it is that it could be more efficient and profitable to develop their products in foreign subsidiaries, or partner with foreign firms that specializes in certain parts of production.
3. Expanding operations
There is also this very exciting aspect of business: expansion. Being a player in the multinational market could mean: 1) a merger or a direct acquisition of existing companies, 2) establishing or acquiring certain operations, and 3) setting up back offices in other countries – and all these mean profitability.
4. Trading opportunities abroad
Companies may opt to directly sell their goods and services to foreign markets for reasons that the local market is already saturated, or they have found a lucrative opportunity abroad because of the uniqueness or superiority of their products and services. Another motivation could be the belief that having investments overseas would bear higher returns added to their local returns.
In a nutshell, it's easy to see how potentially profitable it is for your business. Then again, it's also an extremely tedious accounting process. Your business finances are difficult to manage as it is; can you imagine how complex multi-currency transactions could be?
Fortunately, accounting platforms nowadays have foreseen the need for multi-currency transactions. The Xero cloud accounting software is among those that offer multi-currency invoicing and management. Through Xero, a few clicks on your computer enables you to complete all the multi-currency calculations your business needs and automatically adjusts your accounts accordingly.
Xero has a lot in store for you and your business. Find out more by getting in touch with our qualified financial advisers at D&V.