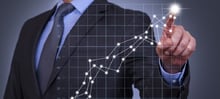 As early as now, you should realise that sales forecasting carries a lot of weight, especially where your business finances are concerned. By acknowledging the importance of sales forecasting for your SME, you are already one step ahead in the entrepreneurial race. But how, exactly, can you assess whether your business is indeed ripe for sales forecasting? Read on and find out if it's time to invest more time, energy and money on a sales forecast:
1. Is your inventory out of control?
One of the major perks of sales forecasting is that it allows you to have better control of your inventory. If you are currently struggling with inventory management, doing a regular sales forecast will empower you and your business to examine inventory trends and identify the specific lapse in managing your inventory.
2. Are your sales trends fluctuating?
Aside from helping business owners like you to get better at inventory management, another sales forecasting benefit that tops the list is spotting sales trends. If your business is currently at that phase where your sales trends do not yet follow a regular pattern, a sales forecast can help put a semblance of order to these fluctuating patterns. Hence, you will be more able to determine the best strategies to keep your sales up.
3. Do you need to improve current sales?
Relative to the previous item where a sales forecast can help you spot sales trends, here's one more reason why you should go ahead and complete that sales forecast: a look into your customer's purchasing patterns. Through a sales forecast, you can gain more access to customer information and you can use these information to develop effective and strategic product and service promotions.
Sales forecasting may seem like a simple, basic task but in reality, it isn't. There is more to this complex accounting function than meets the eye, especially since the complexity of your sales forecast primarily depends on the size of your business. At this point, your best option is to dip into sales forecasting while your small business is still at its startup phase. But as your business expands and your sales and bookes become more complex, it would be best to delegate sales forecasting functions to a professional.
At D&V Philippines, we recognise the importance of a sound sales forecast in making sure that your business is headed towards the right direction. For more specialised services in finance and accounting for your SME in the UK, you may get in touch with our qualified advisers at D&V Philippines.