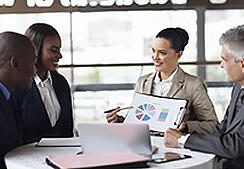 Whenever the topic on modern finance and accounting comes up, you can always expect cloud accounting technology to take the spotlight. And with good reason. For most business owners in the US, cloud accounting and business financial management invariably go together. But then again, there might be more complexities involved in these two than it normally appears.

While maximizing the use of cloud technology is an indispensable part of modern business finances, having impeccable financial records is not exclusive to the use of cloud technology.
The reality is, getting your critical business numbers in order means validating the financial records you have in the cloud.
The ball starts rolling when you understand the relationship of cloud accounting and strategic business financial management.
Take business intelligence, for example. Business intelligence is crucial for startup businesses or SMEs struggling to keep their profits up. The specific methods involved in this strategy enable you to probe deeper into your financial records and provide a forecast on the possible turnout of your critical business numbers. In the long run, business intelligence helps you have a better view of how to manage your business cash flow and where to place your corporate investments.
Internal auditing is another interesting aspect that explains why cloud accounting and strategic business financial management go hand in hand. For growing companies with increased complexities in their finances, it is important to keep a close eye on the overall financial position of the business. Internal audits provide an objective and comprehensive view of how the business is performing through the use of the financial records stored in the cloud.
Quality assurance also plays a major role in strategic business financial management. Most companies use information provided by cloud accounting tools like Xero, MYOB and QuickBooks to get their financial records in order. But to ensure that everything is right on track, strict quality assurance policies are also essential. These policies provide guarantee that businesses are making the most from the records generated from the cloud.
Last but not the least is tax planning. Cloud accounting tools can help your business go a long way when it comes to tax compliance. But although you can file your taxes digitally with the help of these tools, there's no substitute for having a professional tax adviser to help reduce your tax liabilities.
Cloud accounting significantly improves the way modern businesses like yours do finance and accounting – be it in assisting you in filing taxes, creating financial statements and automating bank feeds. But here's something better: further adding value to your business finances by complementing the use of cloud technology with expert advice from finance and accounting professionals.
D&V Philippines revolutionizes finance and accounting functions through tailor-made solutions that help businesses thrive more. Subscribe to our newsletter for more updates about our company.