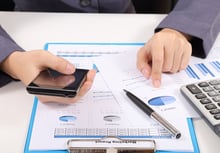 When a great business opportunity comes up, it is almost too easy to go ahead and leap right into it. The prospects of profitable returns has that kind of appeal. But if you compute, analyze and strategize, you'll realize that not all business concepts that look good on paper will produce the same outcomes once applied. This is just one reason why you need a management accountant.
The Management Accountant
A management accountant is a multi-skilled professional. His greatest strength is his seamless execution of five different roles: an accountant, analyst, planner, strategist and communicator. By working his way around various skillsets, the management accountant will be able to assist you in making sound SME financial management decisions.
Here are more reasons why you should seriously consider teaming up with a management accountant:
Explains financial concepts.
As a business owner, you always have the final say.However, you will find it difficult to make decisions without the input of a professional bean counter. To that end, a management accountant is expected to explain in detail the major consequences that come with opting for a specific business decision.
Gives sound business advice.
A good management accountant is able to step into the shoes of a business adviser. Based on his vast knowledge of your critical business numbers, a management accountant should be able to tell you how to handle your business finances. Management accountants should also be able to break down the financial implications of undertaking new projects.
Maps out the best strategy.
Owning and managing your own business is never easy. This is especially the case for growing businesses like yours. But if you have a management accountant, you have a professional assistance as you formulate the best business strategies. The vast knowledge of your business accountant will make it easier to pinpoint strategies that will suit your business best.
Initiates internal audits.
Finally, a management accountant can provide indispensable help in conducting internal business financial audits. These internal audits are vital for your business to ensure the accuracy and efficiency of your internal financial processes. Plus, it will also come in handy in case your business gets chosen for a random business audit.


Seeking the help of a management accountant is the best way to foster the ideal level of integrity and professionalism for your business. Consider collaborating with a management accountant especially if you have a growing business.
Looking for professional management accounting services? Check out our wide array of finance and accounting services at D&V Philippines today!