In the Know: Fintech Trends to Watch Out for this 2019
In the past decade, disruptions in the accounting industry have become the norm, thanks to ever evolving financial technology trends. In this article, we look at fintech trends in 2019 that are expected to shape the finance and accounting industry in the next five years.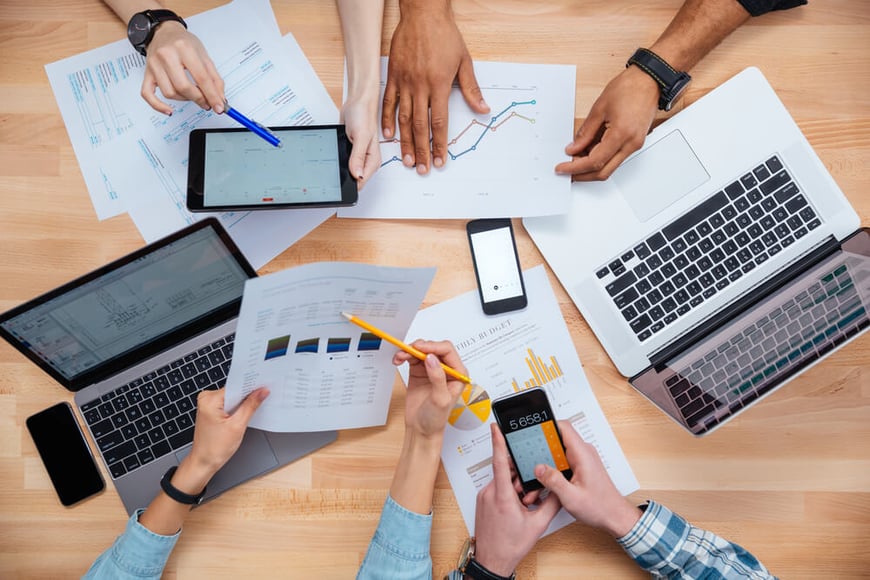 What is Fintech?
Fintech, a portmanteau of the words finance and technology, is a term applied to new technology that are designed to optimize, automate, or enhance financial processes and service delivery.
At the turn of the century, fintech was used to refer to tech used by financial institutions. Now, however, fintech has become more commonplace, encompassing tech used in different areas such as wealth management, banking, and fundraising, to name a few.
Fintech Trends 2019
In the past couple of years, fintech has grown by leaps and bounds. According to a report by Accenture, investments in fintech have reached $55 billion worldwide, which is double the figure spent by businesses in 2017.
In 2019 and beyond, we can expect greater developments as the fintech ecosystem continues to mature at a rapid pace. Here are some trends in fintech that we predict will significantly impact the finance and accounting industry.
Increased Competitiveness in Securing Funding
After years of unrelenting growth, the fintech industry may see investors becoming more selective. According to a report by McKinsey, despite an increase in total VC funding, tech investors are growing less inclined to invest in early-stage fintech startups. In 2014, there were more than 13,000 deals for early-stage companies, which decreased by more than half to around 6,000 in 2017.
To attract capital, fintech startups may have to develop sustainable business models that also show promise in terms of scalability and profitability.
AI-Powered Voice Technologies
With tech giants Google and Amazon popularizing AI for voice in their digital assistants and smart speakers, this branch of AI has been increasingly embraced by consumers. In the coming years, AI for voice will certainly have an impact on fintech.
In Singapore, the Oversea-Chinese Banking Corporation (OCBC) partnered with Google to launch their AI-powered banking services. Using Google Assistant on their smartphone, clients of the bank can access financial market updates and foreign exchange rates, as well as perform other simple functions, such as:
Calculate how much mortgage loan they can afford;
Plan how much they need to save for a comfortable retirement, or for their child's education;
Monitor unit trust prices; and
Look for OCBC branches or ATMs in the vicinity.
As this technology continues to rise in popularity, we can expect to find more innovations and banking technology trends that are geared towards enhancing customer experience.
The Rise of Open Banking
With the EU's revised Payment Services Directive (PSD2) and Open Banking, we can see further progress in terms of data sharing that will have far-reaching effects on banks and other financial services firms.
As we find more customer-facing products, there will be a greater need for strategic planning and analysis in order for providers and institutions to fully take advantage of its benefits. It's important both for providers and consumers alike to understand not only the benefits, but also the risks involved in this technology.
RPA and Blockchain Technology
Robotic accounting and AI-enabled financial processes continue to evolve, and we can expect to see its impact on financial institutions' increased productivity and efficiency. In the next wave of automation and AI, McKinsey estimates that machines will be performing 10% to25% of banking tasks.
Previously, we have written about how blockchain can impact accounting and finance. One of the more well-known applications of blockchain technology is cryptocurrency, which has rocked the financial industry when it boomed in 2017.
Considering the efficiency and security by which cryptocurrency transactions are made, this tech has captured the attention of American and European banks, with 90% of these banks exploring its use in making payments. Nevertheless, it remains to see if we will see more banks adopting cryptocurrency as predicted.
Cloud-Based Accounting
Learn how these trends will affect your business to stay ahead of the competition. If you're preparing your business to capitalize on these technologies, you need advice from finance and accounting experts.
Contact D&V Philippines to learn about our cost-effective solutions that suit your needs. You may also read our e-book, Premium CFO Solutions, to find out how we can add value to your business. Click the link below to get your copy.