How to Integrate Cloud Accounting Tools on your Phone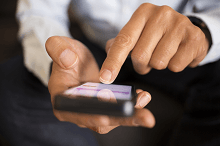 As a modern CFO, your numerous duties and responsibilities can get overwhelming at times as you have to balance which tasks to prioritize and which ones to bench for the moment. It's a feeling that every executive in a company has felt at least once in their career. Practically all business owners feel that way. Fortunately, the right tools can help you cope.
With the advent of technology, cloud accounting has become a useful tool for CFOs to streamline financial processes. Now, you can take it up a notch as you use cloud technology even when you're out of the office.
How so? With the recent developments of several cloud accounting software, these tools are now easily downloadable for use on your smartphone, making it a handy way for you to check on your tasks and perform your responsibilities wherever you may be.
Here's
how you can get started:
Download online accounting tools on your smartphone.

Install it in your device.

Enter your login details to access your records.
Before patronizing any cloud accounting tool, you have to understand the benefits of using cloud technology on your smartphone. Here's a basic rundown:
Access your financial records in real time
Even when you're out on a business trip, you can check your cash -flow by simply logging in to your cloud accounting tool through your smartphone. This way, you can keep a close eye on your business finances by accessing your bank statements and business profit.
Create and send invoices in a snap
When you have important transactions with clients and you can't afford to delay sending the invoice, you can rely on your mobile device to give you a hand. This prevents the hassle of forgetting to send an invoice.
Collaborate easily with your accountant
By installing your choice of cloud accounting tool in your mobile phone, you can easily access your records and talk to your accountants about your financial concerns. Some tools even offer messaging features to ease up the process of collaboration.
Issue foreign currency checks to suppliers
There are a lot of business owners nowadays who transact with foreign suppliers and customers. If you are one of them, here's some good news: most cloud accounting tools offer multi-currency features that enable you to send and receive payments seamlessly through the cloud.
Integrate with other applications
Xero cloud accounting has an open API feature which allows the easy integration of other apps into the software. These apps include inventory and sales, among others. There are also tools like QuickBooks that do not have an open API feature but have built-in apps that are readily available.
Now more than ever, smartphones have an even greater value because they can be integrated with tools that increase the efficiency of your business. By being easily accessible, cloud accounting has become a more convenient method of managing a company's finances, making it the right choice to help with your finance and accounting needs.
Want to know more about cloud accounting?
We have a wide expertise in handling the numbers of businesses across various industries as we use top-of-the-line cloud accounting software to make sure your company's needs are met. Contact us today and we'll provide finance and accounting solutions specifically tailored for your company!
Download our Outsourcing: How to Make it Work guide today and know how we can be your reliable outsourcing partner.
This post was first published on 18 August 2014 and edited 10 August 2023. Edited by: Aly Tagamolila