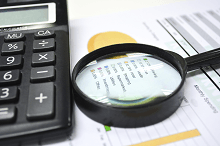 Every now and then, entrepreneurs may overlook and miscalculate, which can lead to financial clutters. When left unresolved, these issues may invariably lead to debt. Should you even go there? Of course not! Problems with cash flow should not be a license to get wallowed in debt.

By effectively monitoring your payables, you can keep your business finances on solid ground. You can do this through debt accounting.
Debt accounting is a simple bookkeeping process that involves scrupulously keeping track of your loans and imposing a set of standards that ensures the timely payment for these loans. Here's a basic guide that can help you manage debt:


Organize a copy of your receipts
Bookkeeping initiatives is the key. Keeping a copy of the payments you have completed is an ideal practice because it keeps your debt records organised. More than anything else, this also gives you the opportunity to create an inventory of your debts. It will also be easier for you to reconcile payment and draft a business budget, considering the cash you have to shell out for loan repayments.

Schedule the required payments
Keep in mind that when a debt is paid on an agreed staggered basis, there is always a fixed schedule to follow. Determining this schedule - and religiously following it - will help you find a more apt strategy to make sure that you are not missing out on the required payments for that period.

Keep a record of loan agreements
In most cases, loan agreements include specific arrangements like the doubling of interest rates when you miss a payment, or a special agreement getting forfeited due to inconsistent payments. The best way to work around these is to stay informed about the loan agreement that you signed with your creditor.

Look over the loan's interest rates
Always be mindful of loan interest rates. If you have a couple of loans to pay, considering the interest rates of those loans will help you prioritise which ones to pay first. Failing to do this will likely complicate your business finances even further.

Opt for refinancing when possible
Grab the chance to refinance your existing loans. Refinancing options are everywhere – choosing the best alternative all boils down to having access to professional advice. If you have a virtual CFO, you can avail bookkeeping services conveniently and seek help in refinancing your loans.
Loans can turn your business around, especially if you are struggling with your business finances. By accounting for your payables in an organised and systematic way, you can put your mind at ease, knowing that you have not missed any of the necessary payments.
For more information about improving your cash flow, click here to check out the D&V website.