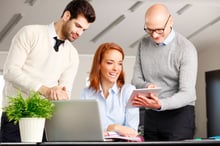 As a business owner, you have full control over your cashflow. More than anything else, though, this also means that you are to take sole responsibility for earning adequate profit from your business operations, expediting cash inflows from that profit and controlling the overall solvency of your business. To be able to do these things, you need to have a good business accounting strategy. At this point, would you say that you have a seamless strategy in place? If your answer to that question is not as affirmative as it should be, you might want to consider these advanced SME accounting tips for your small business in Canada.
Set sales prices right.
When it comes to earning profit for your business, your focal point should always be on your margin. Bear in mind that margin isn't simply your sales price, it's your sales price with the deduction on your variable costs. Once you have all that calculated, you can then move forward to implementing your price alignment strategy, paving way to an improved margin as well as a better business profit.
Strategize a profit-sharing plan.
As mentioned in the previous item, one of the top priorities you should consider is increasing your margin. You can do that by getting your sales up. And getting your sales up means establishing a profit-sharing plan among your employees. Although this strategy is not always ideal for every business, looking into the prospect of profit-sharing could ultimately motivate your employees to work harder in exceeding their target sales., leading to better business revenues in the long run.
Don't confuse profit and cashflow.
Do not interchange profit and cashflow because these two are totally different concepts. When you say profit, you are dealing with the money earned through your business sales. On the other hand, cashflow is the cash coming in and out of your business. As it is, you need to plot out your cashflow to identify ways to manage your business expenses effectively.
Be involved in your financial reports.
Be extra cautious when it comes to your financial reports. As a business owner, you need to look into your business financial reports regularly. A financial report helps ensure that your company is complying with important business regulations, Plus, a financial report also shows investors the current financial health of your company.
Manage debt effectively.
Managing your cashflow requires strong debt management initiatives from your end. As such, you need to know the specific terms of your loans as this is a very effective way to veer away from skyrocketing interest rates. Aside from this, debt management also allows you to strategize the wise use of your financial resources - you can avoid missing payment deadlines this way.

Putting your finger on the pulse of your cashflow is a necessary step to get your business running smoothly. Be more proactive in managing your cashflow today - it'll do your business a lot of good.
Need more help in advanced finance and accounting services? Check out the D&V Philippines website to know more.