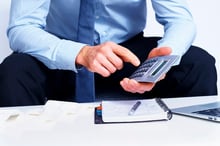 In this day and age, it is very common for first-time entrepreneurs to interchange the role of a bookkeeper and an accountant. After all, the roles of these two may indeed seem related at first glance. However, the similarities only lie on the surface. In reality, the task of a bookkeeper couldn't be more different than the responsibilities of an accountant. While an accountant is responsible for generating and interpreting financial reports as well as managing tax compliance requirements, a bookkeeper's work is more geared towards keeping financial records in order and keeping the company's books organised.
In most cases, some small business owners in the UK opt to just do bookkeeping functions on their own. While this is usually part of the corporate norm, there are still many errors that small business owners commit when they are managing their books. Here are some of the most common bookkeeping pitfalls you should be wary of:
1. The DIY Mentality
Working through your critical business numbers is a tedious task. For small businesses, it is relatively manageable for owner of the business to do the company's bookkeeping and accounting operations. But as the company grows and the books that need to be organised become more complex, there comes a greater need to seek bookkeeping and accounting assistance from experts.
2. Losing track of minor purchase receipts
There are times when business owners fail to keep receipts and invoices for simple transactions. While these may seem negligible at first, there is still the possibility that such spending will pile up, leading to a large sum of cash. Keeping these unaccounted for can bring a significant lapse in your critical business numbers.
3. Neglecting hard copies
The security features of various cloud accounting platforms may urge you to ignore hard copies of your financial reports. Note, though, that you should still keep hard copies at hand in case the party you are doing transactions with has not yet shifted to the cloud. This will also double your efforts at data security.
4. Miscalculating your taxes
One of the more complex tasks assigned to accountants is to conform to UK taxation laws come tax season. However, if you are preparing your taxes on your own and you have somehow made miscalculations, this is likely to cause a huge commotion at the tax office - chances are, you may even be reprimanded for non-compliance to UK tax laws.
Bookkeeping is a systematic task that requires strong organisational and management skills from your end. If you think you cannot attend to the bookkeeping needs of your business, why not seek the help of experts?
Check out the D&V website to explore our finance and accounting services further.