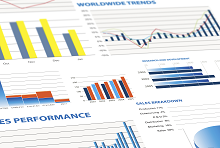 An influx of critical business numbers make it to the top of your desk – or in your inbox, as the case may be – too often than you care to count. This is especially the case when your schedule is too hectic to review these numbers scrupulously. Good thing there is what we call key performance indicators or KPIs.
So what are KPIs and how can they affect your business?
KPIs are a set of metrics that aim to keep your business strategies on track. When done correctly, these KPIs can accurately reflect your business performance. What you need to know, though, is that KPIs vary depending on the goals and objectives of a business. Wondering how you can create your own set of KPIs? Here's a guide that can see you through:

1. Determine the best sources of data
There is – and always will be - a wide variety of available raw information that you can use as a KPI. The wide selection of raw information will likely make your head spin. In this case, though, you need to narrow down your options to keep yourself from getting too overwhelmed.
Choosing the best option means zeroing in on the most reliable and the most accurate sources of data.
2. Consider information frequency
If you are looking at a number of KPIs to gauge your business performance, be mindful of its frequency. Some of the raw numbers come in on a monthly basis, others are less frequent – quarterly, or even yearly. Be conscious of this frequency as it has a direct effect on the results of the key performance you are monitoring.
3. Look for quantifiable metrics
While we should neither ignore nor belittle the value of qualitative data, do note that the quantitative aspects of business progress are easier to measure. Quantifiable metrics come in the form of net profit and number of repeat customers, to name a few, as opposed to customer satisfaction feedback.
4. Ensure alignment with business goals
Another important factor to consider is that the KPIs you should choose for your business should be aligned with your business goals. Otherwise, it will lose its value as a yardstick for progress. So assuming that your primary business goal is to grow your enterprise, monitoring actual profit could be a promising KPI.
KPIs are indispensable tools for measuring an organization's overall business performance. If you want to know how well your business doing, or if it is hitting business financial goals accurately, the best thing to do is to zero in on those KPIs.
Look into selecting your own set of KPIs for your business. Need more information on identifying KPIs? Click here to get in touch with our qualified advisers.