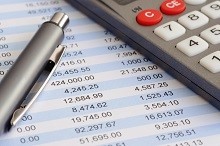 The tedious process of organising your books is already taxing in itself. But beyond keeping your books in order, you also need to know how to put your financial statements together and later on, learn how to analyse them as well. If truth be told, there are many different ways to analyse your financial statements. Your chosen method will depend on what specific financial information you want to look into. To get you ahead in financial statement analysis, you might want to take a look at the common methods used by accountants and business advisers:
1. Time series analysis

You might have heard of trend analysis before—this is exactly what time series analysis is all about. This kind of analysis is very useful for businesses whose main concern is to forecast business performance over time. If you are seeking out this kind of analysis, note that you will be dealing with the company's historical and forecasted data. Calculating financial ratios also play a big role in time series analysis.
2. Benchmarking
There are many thriving businesses in Australia. For other SMEs, it might be helpful to look at these businesses to compare business performance and cashflow management initiatives. Businesses that belong to the same industry find it more convenient to compare notes and later on, make adjustments in their money management schemes. To effectively conduct benchmarking, it is important to obtain other companies' financial ratios through credible sources.
3. Common size financial statement analysis
Another way to analyse your financial statements is to put a focal point on your balance sheet and your income statement. Once your bookkeeper has organised your books and you or your accountant have generated your financial statements, you can begin your analysis using percentages from these two financial documents. Remember that when you use your income statement, you should look at it as a percentage of your sales. Meanwhile, when you use your balance sheet, you should view it as a percentage of your total assets.
4. Percentage change financial statement analysis
Finally, percentage change financial statement analysis is the most complex way to analyse your financial documents. The processes involved in this method could be rather confusing but nevertheless, it is very effective in calculating how your sales and your assets grew or declined over time. The information you will gain from this type of analysis will be very significant in helping you make strategic business decisions in the long run.
Analysing financial statements is very important for your business but obviously, it is not an easy task as it demands strong accounting experience and expertise.
Are you interested in financial statement analysis? We can help! Check out the D&V website to know more about the services we offer.