The Role of the CFO in Digital Transformation
The duties and responsibilities of CFOs are ever-evolving. From compliance and financial management, they are now taking vital roles in management advisory and strategic decision-making. It's no wonder why they're in the best position to support the digital transformation initiatives of their organizations.
Let's look at these top 3 CFO roles in digital transformation.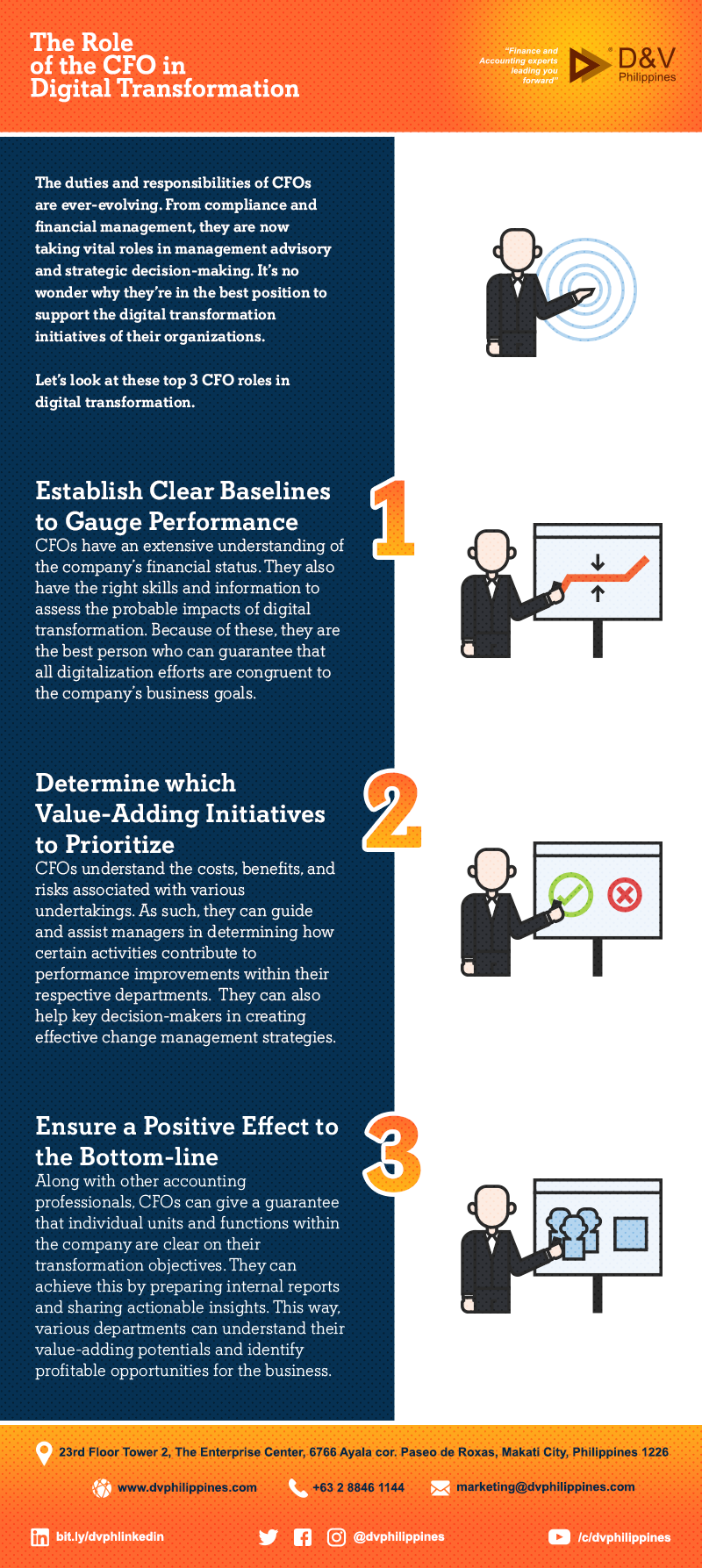 1. Establish Clear Baselines to Gauge Performance
CFOs have an extensive understanding of the company's financial status. They also have the right skills and information to assess the probable impacts of digital transformation. Because of these, they are the best person who can guarantee that all digitalization efforts are congruent to the company's business goals.
2. Determine which Value-Adding Initiatives to Prioritize
CFOs understand the costs, benefits, and risks associated with various undertakings. As such, they can guide and assist managers in determining how certain activities contribute to performance improvements within their respective departments. They can also help key decision-makers in creating effective change management strategies.
3. Ensure a Positive Effect to the Bottom-line
Along with other accounting professionals, CFOs can give a guarantee that individual units and functions within the company are clear on their transformation objectives. They can achieve this by preparing internal reports and sharing actionable insights. This way, various departments can understand their value-adding potentials and identify profitable opportunities for the business.
CFOs are the ideal go-to person who will make sure you're on the right track in your journey to digital transformation.
If your entity is looking for ways to assist your in-house CFO, D&V Philippines is here to help. Our finance transformation experts are ready to work hand-in-hand with your CFO as you transition toward a more efficient and productive operational framework.
Download a copy of our guide, Premier CFO Solutions, to find out how we can help your organization.