COVID-19 Insights: Preparing for Black Swan Scenarios
The rarity of black swan scenarios makes it impossible for businesses to create a system that will work within a 24-hour notice. Rather than scratching your heads looking for a solution for unprecedented crises such as the coronavirus pandemic (COVID-19), preparing a plan ahead nurtures your resilience as a company and reshapes the outcome after such circumstances.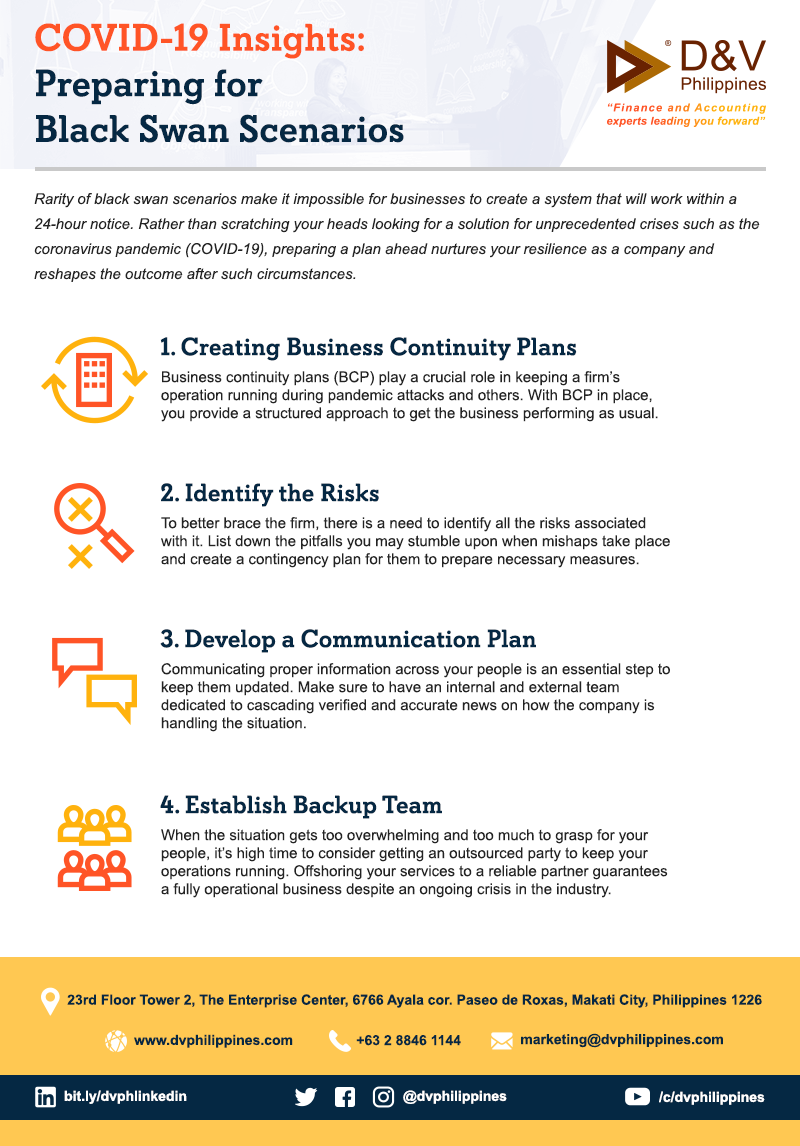 1. Creating Business Continuity Plans
Business continuity plans (BCP) play a crucial role in keeping a firm's operation running during pandemic attacks and others. With BCP in place, you provide a structured approach to get the business performing as usual.
2. Identify the Risks
To better brace the firm, there is a need to identify all the risks associated with it. List down the pitfalls you may stumble upon when mishaps take place and create a contingency plan for them to prepare necessary measures.
3. Develop a Communication Plan
Communicating proper information across your people is an essential step to keep them updated. Make sure to have an internal and external team dedicated to cascading verified and accurate news on how the company is handling the situation.

4. Establish Backup Team
When the situation gets too overwhelming and too much to grasp for your people, it's high time to consider getting an outsourced party to keep your operations running. Offshoring your services to a reliable partner guarantees a fully operational business despite an ongoing crisis in the industry.

For a credible accounting offshore partner, look no further than D&V Philippines. With our experienced experts, we can provide top-notch financial services to your growing firm. Download our whitepaper Outsourcing: How to Make it Work to learn how outsourcing can do wonders for your business.