Most Wanted: Finding the Right Cloud Accounting Partner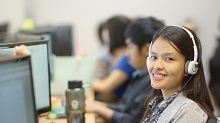 Cloud accounting has made things easier for everyone. The process was made faster, easier to access and more efficient. However, like all tools, it is not for everyone. Cloud Accounting is still a new field where only select organisations/firms can bring out cloud accounting's full potential. Finding the right financial and accounting services partner can make a difference between using a typewriter and a MacBook.

Qualified Accountants – Professional Certification
Most of the countries around the world have professional regulating bodies that look after accounting qualification and the maintenance of high professional standards. Certified or Chartered Accountants are highly qualified professionals who have completed degree-level education, qualified and passed the required examination combined with workplace experience or competence program. It is very important that you have certified or chartered accountants as your partner in order to ensure that you are being guided by people who are qualified both academically and professionally in your accounting needs.

Range of capabilities and services – The need for flexibility
Not all accounting firms are created equal. Some are great with accounting and bookkeeping while others excel in management accounting and financial analysis. Whether you are looking for a partner to address a single accounting need or looking for a long-term accounting partner, it is always better to have an accounting partner that can address your current and future needs.

Cloud Accounting expertise
If you are looking for a cloud accounting partner, then look for an accounting firm that has already adopted in the ways of cloud accounting. There are a lot of great accounting firms out there but not all are certified of proven to be good in cloud accounting. Cloud Accounting software providers such as FreshBook and Xero have their own accountant certification program to recognise accountants or accounting firms that are experts in using the respective cloud accounting software.

Partnership Collaboration and Integration
A partnership without collaboration is just two organisations working separately. Of course, a partnership can't be considered a partnership if the two organisations do not collaborate. It is important to look for a cloud accounting partner that understands you, your accounting needs and is very willing to collaborate with you, not just tell you what to do and get paid. Finding a partner who will make recommendations to improve your system as well as your business after accomplishing what needs to be done is very rare these days. A partner like this is a partner that will help you achieve not just your goals, but ultimately, success.
Still looking for the right cloud accounting partner? Getting in touch with our qualified advisers at D&V Philippines is a good way to finish your search.