Benefits of Digital Accounting for Accountants & Businesses
Digital accounting is no longer a privilege for today's businesses. It's a necessity — an essential tool to help you keep up with the changing accounting requirements and regulations. While it sounds grueling, the benefits of digital accounting to your day-to-day operations are more rewarding than you think.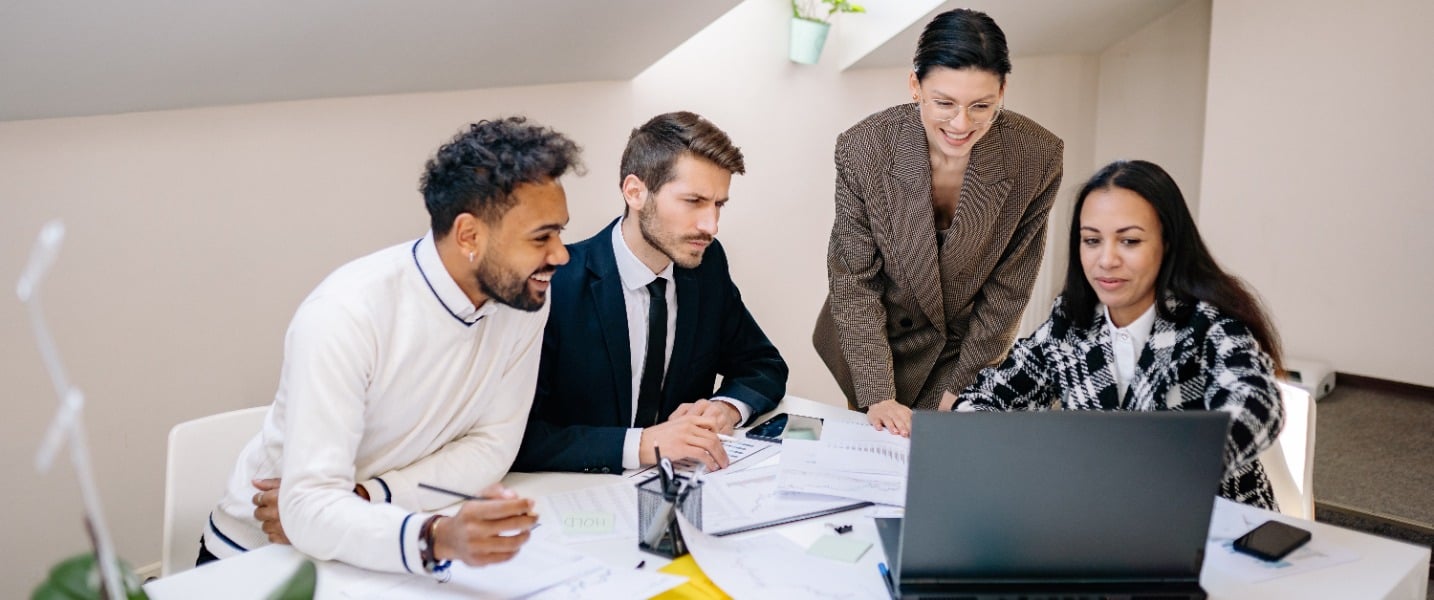 Think of your daily accounting duties. If you still do these tasks manually, we're sure the mere thought of doing them can feel overwhelming. We've also been there, and it stretched us too thin. As a response, we looked for tools to aid our work — and we never looked back since then.
Going digital allowed us to automate time-consuming tasks. Until today, this first-hand experience inspires our accountants to discover, study and use digital tools. In return, it increased our capacity to deliver fast and accurate accounting support to our clients.
With the right knowledge and skills in digital tools, you can also bring positive changes to your department.
What is digital accounting?
Digital accounting is an umbrella term that involves the creation, transfer, management and storage of financial information in digital accounting systems.
Digital accounting is useful for automating repetitive and time-consuming tasks. It can also generate reports and insights into a business's financial performance.
The process of digitalizing your accounting often includes the use of cloud accounting software, business intelligence tools and data analytics. These tools can also be integrated with relevant business management tools. Through these capabilities, your accounting processes — and even your collaboration with other departments — can be more efficient.
Top benefits of digital accounting
The proper use of digital accounting systems can bring several benefits to accountants and businesses, as outlined below:
a. For accountants
1. Improved collaboration
The widespread adoption of digital accounting systems challenges you to upskill, reskill and update your knowledge. It increases your market value as an accounting professional because with the presence of digital tools, you can develop high-level skills such as data analysis and software proficiency.
2. Improved collaboration
The access-sharing feature of online accounting tools can improve team collaboration. Even if you're in different locations, you can still securely share confidential data and collaborate on projects in real-time.
3. Increased remote work opportunities
Digital accounting gives you the option to work remotely. You can do quality work wherever you are, as long as you have a good internet connection and excellent time management skills.
b. For businesses
1. Enhanced productivity
Basic accounting functions consume a huge portion of your time when not automated. Think of manual record-keeping, preparing management reports and reconciling bank accounts. If you automate these tasks, you can reduce your staff's repetitive administrative and basic tasks, which can boost their productivity.
2. Real-time reporting and data accuracy
Up-to-date information is valuable to any financial manager — and using technology can help you obtain this resource.
When you gain access to real-time reports and financial data, you are empowered to make informed and better business decisions.
3. Robust financial and accounting information security
By moving your data to a digital accounting system, you can better protect the sensitive financial information of your clients and your organization. Data integrity and information security will no longer be a challenge as such software employs cloud technology to store your data.
How to transition into digital accounting
The benefits of technology in accounting far outweigh the challenges that come with it. But how can you make this shift sustainable?
1. Choose the right accounting software
Make sure to choose the right accounting software from the get-go. Doing so helps you avoid the extra costs of using other software that doesn't meet your needs.
Consider these tips:
Know the ins and outs of your processes — it will help you find the software that best fits your requirements.

Choose a program with a simple migration process so you can move your files faster.

Look for accounting software with scalable plans. This way, you can easily upgrade your plan as your business grows.

Check the third-party integrations of the software. If the apps you're using can be connected to the software, you can process your numbers more seamlessly.

Select a cloud-based system (that is, the software you can access online). It's more cost-effective and scalable compared to its desktop counterpart.
2. Transfer your data to your chosen software
Each cloud accounting software has a different migration process, so it's necessary to learn about how their process goes. You should also take the time to identify the data you need to transfer and the outdated information you can archive.
You can also check with your software provider if they can assist in migrating your data. The key players in the industry offer software migration as an added service, which is worth considering since they know their software best.
3. Upgrade your policies and practices
Providers of cloud accounting software have robust security measures to protect confidential data. However, it still pays to develop your own policies and practices for protecting your digital assets. For example, you can educate your team about different online security attacks to ensure they're always careful in managing sensitive information online.
Digital information is crucial for all transactions with clients, that's why best practices and policies are best imposed to further push the confidentiality of your numbers.
4. Prepare your team for potential changes
Brace your team for potential changes through proper training and knowledge-sharing programs.
Moreover, you should remain at the forefront of your digital transformation efforts to inspire your team to adapt and upskill.
What skills should you develop?
The Association of Chartered Certified Accountants (ACCA) — a global professional accounting body — surveyed over 4,000 accountancy and finance professionals to find out the top skills required of a modern accountant. The top 10 digital accounting skills are as follows:
Data analytics (72%)
Spreadsheeting (54%)
Project management (43%)
Digital transformation/strategy (40%)
Artificial intelligence/machine learning (37%)
Data structures (37%)
Data governance (36%)
Cybersecurity (35%)
Future impact of applications (30%)
Coding (26%)
Those who are proficient in any of the abovementioned areas can help businesses in:
Optimizing the decision-making process and business performance

Identifying cost- and time-saving opportunities

Minimizing risks

Boosting profit

Identifying relevant patterns and trends
Automation is already a part of our reality. We cannot turn our back on it and pretend it doesn't exist. What's realistic is to face it head-on and develop the skills needed to manage such tools.
Work with digitally inclined accountants
Our accountants at D&V Philippines have the necessary knowledge, skills, tools and support to function in this technologically driven world. If you're planning to embrace digital transformation in your accounting department, we are ready to lend a hand. Contact our experts today to learn more about our business analytics solutions. You can also grab a copy of our whitepaper, The Rising Frontier: Harnessing the Power of Business Analytics, to find out how we use accounting technology to your advantage.
This post was originally published on 2 May 2017 and has been updated since then for relevancy and comprehensiveness. Last update: 3 May 2023. Edited by: Mary Milorrie Campos