D&V Philippines Recognized among 2023 High-Growth Companies
For two years in a row, D&V Philippines secures a spot in the recently issued High-Growth Companies in the Asia Pacific for 2023.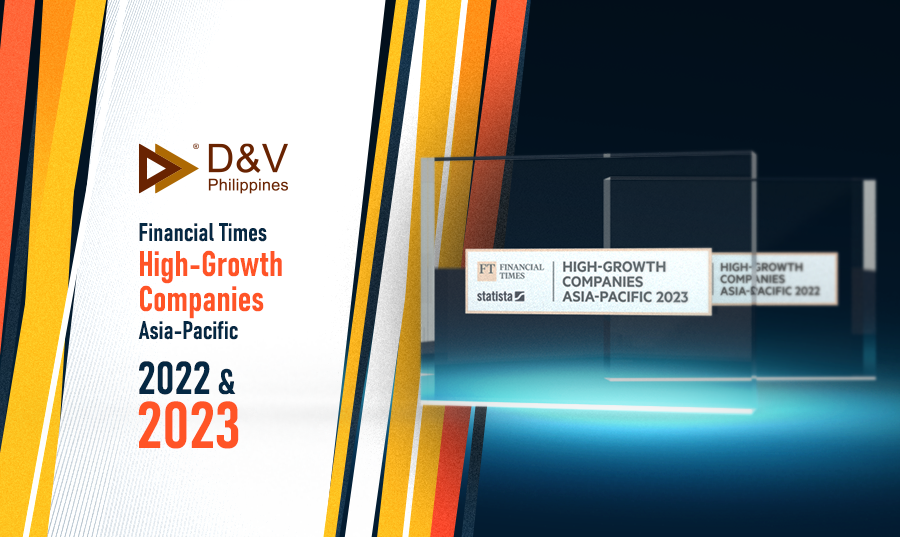 Leading publication Financial Times (FT) conducted its fifth edition of the ranking in partnership with international research body Statista to put together the top-performing companies with an impressive financial performance from 2018 to 2021.
FT's selection system was extensive, evidenced by their stringent criteria for participating in the competition which includes full disclosure of past revenues. The submitted figures undergo deliberate checking, and data entries are verified by Statista. While not all organizations engage in the annual search, this ranking showcases the impeccable growth of companies in terms of workforce, revenue and innovation, and how they drive up the APAC economy.
D&V Philippines made it to FT's radar for the first time in 2022 when it landed the 430th spot.
This year, the company placed 332nd in the 2023 FT list, exhibiting a Compound Annual Growth Rate of 34.8% and an absolute growth rate of 145.2%. It also reported the firm's 2018 and 2021 revenues as $4.41M and $11.56M respectively.
A success founded on people and partners
D&V Philippines is a people-centric organization. From a team of 352 in 2020 to [close to] 1000 employees in 2023, the firm recognizes the role people play in their day-to-day operations. It is because of them that D&V Philippines delivers top-notch finance and accounting solutions to its global client network.
In the same manner, the clients' trust in their expertise was another founding block of success. The partnerships they forged with partners helped them build their name as an esteemed BPO specializing in F&A.
With these assets, reaching new heights not only became an aspiration – it became possible.
Staying committed to the goal
D&V Philippines is on a mission to provide first-class F&A services to CFOs, finance leaders and professional services firms through their people, expertise and technology. They are driven by their goal to be on the frontline of the outsourcing arena.
With this new recognition, the team guarantees to continue fostering a culture of fun, integrity, relationships and excellence that are client-focused and people-driven.
D&V Philippines celebrates the growth they are enjoying today, with a more empowered team bullish to continue moving and growing forward.