D&V Philippines Among the Country's Growth Champions for 2022
Despite the challenges of the pandemic, D&V Philippines has maintained a strong financial foothold and was even named as one of the country's Growth Champions for 2022.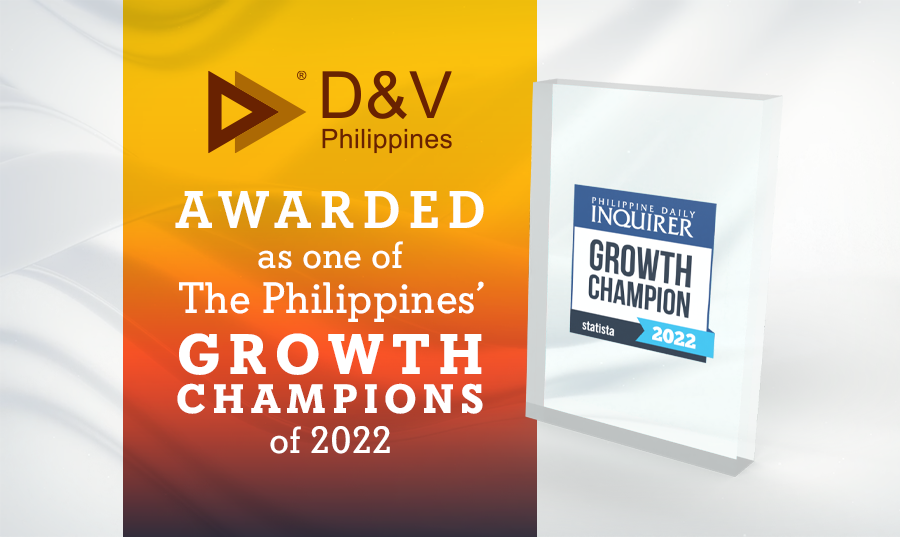 PH Growth Champions 2022
A collaboration between the Philippine Daily Inquirer, a leading news provider, and Statista, an international market research firm, the Philippines' Growth Champions 2022 enlisted the country's top 25 companies with the highest percentage growth in revenues between 2017 and 2020.
D&V Philippines ranked 12th, recording a 27% average year-to-year growth. Within the three-year period, the company grew by 183 million as it documented 171 million revenues in 2017 and 354 million revenues in 2020.
This announcement came out in print on 11 March 2022 and was published online on 14 March, just in time for D&V Philippines' 10th year founding anniversary.
Cultivating strength
From a five-accountant team, the company grew into a 600-employee outsourcing company. Over the years, it experienced unprecedented growth as it continues to provide world-class finance and accounting (F&A) services to clients from the United States, the United Kingdom, Australia, Canada and its home country, the Philippines.
Regardless of its growth, CEO Stefan Vermeulen announced that the company will remain true to its mission of delivering specialized F&A services.
Through this, D&V Philippines can focus all its resources on helping clients — small business owners, chief financial officers, accounting firms — resolve their challenges in cash flow management, tax accounting and other highly-specialized accounting services that require the help of well-versed accountants.
A people business
Before becoming a Growth Champion based on revenue growth, D&V Philippines is first a People Champion — a company that prioritizes the well-being of its employees before anything else.
Spearheaded by CEO Vermeulen, the management believes in the strong correlation between employee satisfaction and their work performance.
Fostering a culture of trust, inclusivity and accountability, D&V Philippines' leadership sees to it that all team members get a fair shot at career growth opportunities and advancement. Aside from this, the company recently announced its intention to embrace the hybrid work approach to give employees the option to work in the comfort of their homes and visit the office when needed.
D&V Philippines is also among Asia Pacific's High-Growth Champions for 2022.