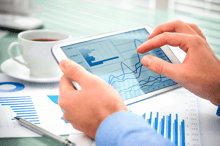 Leap and the net will appear. Or so says that old Zen saying. Unfortunately, it is not always that easy. As a business owner, there are a lot of things that you just cannot put at stake. Accumulating more wealth at the expense of placing your business and your other assets in peril is one of them. So what do you need to do with these risks? And how can you initiate satisfactory returns at a level that goes well with the risk tolerance of your enterprise? These are just some of the things you need to understand before jumping into investments.
Risks and Returns
Risk is the possibility that the money you put into an investment will not yield the outcomes you are vying for. Expecting a significant growth in your investment in spite of the likelihood of declining stock market values is a classic example of a risk. If you would examine it closely, you will realise that risks are an inevitable part of investments. This is especially the case since high potential returns inadvertently go with high risks.
What to do
As an individual with a strong entrepreneurial spirit, it is only natural for business owners to push through with certain business risks. Otherwise, it would be difficult to step up and increase the money coming in from their business. But in any case, it is important to remember the importance of risk management. The rule of thumb in risk management is to assess your risk and to help you mitigate them in the long run.
Assessing your risk is a tedious process that involves keeping a close eye on your critical business numbers and setting a limit on the level of risk that is considered healthy for your SME. If you do this the right way, you will have better chances of increasing your current cashflow. Otherwise, you will put your business and your other assets in jeopardy.
Understanding Diversification
There are some financial experts who advise their clients not to put all their eggs in one basket, so to speak. This advice sums up what diversification means. In a nutshell, diversification is a technique that allows investors to increase probabilities for their potential returns by dividing their investments into different investment instruments. For example, you might opt to put half of your investments on money market funds and the other half on stocks. The process of splitting your investments keep the blow from being too harsh in case your investments get caught in a drop in stock market values or a worsening economic problem.
Note that while diversification does not shield you from loss, it significantly mitigates risks while increasing your chances for gaining potential returns.
Discovering what you can about investments and using that knowledge to make profitable business decisions will help you and your business to thrive financially. For more information on managing risks and following ideal strategies on wealth creation, you may get in touch with our financial experts at D&V Philippines.