5 Reasons Why it's Easier to Plan your Taxes with Cloud Accounting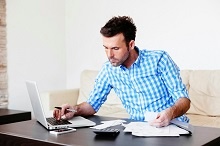 Tax planning and management are arguably the two most disliked obligations for individuals in UK. This is why the government and HMRC or Her Majesty Revenue & Customs have developed various ways to assist both individuals and businesses in their tax compliance obligations.
However, keeping up with regulations for corporate taxes can still be too much for business owners--especially first-timers--who have to juggle all the legal obligations with business operations management. Imagine if there were a way to take the stress out of tax planning.
Cloud accounting has opened up new doors for businesses and individuals alike. It has turned the highly complicated and tasking job of tax planning into a breeze. It has also allowed its users access to more legal solutions should they be having tax troubles. With running your business and living a full personal life, only cloud accounting can make all your corporate tax woes disappear.
Still not convinced? Here are top 5 reasons why corporate tax planning is easier on the cloud:
Time
Because all your tax data are stored in one place that is easily accessible to your accountant, financial advisor, investors and everyone else you want viewing your files, you spend less time in finding the information that you need. This allows you to come up with tax management strategies faster. Plus, cloud accounting provides automated invoices, bank feeds, billing and reporting so you don't have to spend too much time on all those manual accounting jobs.
Accessibility
With all information available on the cloud, you can choose the people who get to view your data for cash flow and tax management purposes. This accessibility can be enjoyed anywhere that has Wi-Fi connectivity - from work computers to laptops to all kinds of Internet-capable mobile devices. Your team will not need to rummage through a box of paperwork to access the information they need come tax time.
Security
The Cloud's security setting depends on the software that you choose to purchase for your business. However, security will not be a problem, generally, because the users themselves get to choose who are allowed to view and access their financial information. Without permission from the owner of the account, other users will not be able to get their hands on any information stored on the Cloud. All your tax data are protected by security that rivals any bank-level encryption system.
Collaboration
Collaborations with team members, accountants, financial advisers, bookkeepers and anyone else you wish to share your financial data with are easily done. You don't have to be in the same place to discuss all your tax and cash flow issues and concerns. Collaborations on the cloud are seamless and in real-time.
Savings
By giving your accountant real-time access to your financial data, it is easier for them to assess whether or not your business can receive any legitimate tax deductions. They can very easily extract information needed to present to the ATO to verify the tax benefits and deductions that your business can enjoy.
Corporate tax planning does not have to be a difficult task, even for business owners. With the right tools and advisers, you can rest assured that your business remains up-to-date with the latest ATO regulations and deadlines, and that all the information you need come tax time are readily available. Invest in the cloud now and reap the benefits ASAP.
The Cloud has opened up a new avenue for seamless and stress-free financial transactions. Find out how else your business can benefit from the cloud and its features by getting in touch with our team of experts at D&V Philippines. We can assist you in assessing your business's specific needs and coming up with corresponding solutions.