Starting a business in the Philippines can be a daunting prospect if you have no idea how to get started. It can be difficult especially if you don't know where to obtain the certificates and licenses you need to operate.

Whether you're a first-time business owner or a serial entrepreneur, you'll find that opening a business in the Philippines can be easier than you think. Here's a guide that you can use as you prepare the requirements in starting a business in the Philippines.
Opening a Business in the Philippines
This detailed list will guide you through the registration process.
1. Register your business name with the SEC
Corporations and partnerships should register their business name through the i-Register Facility of the Securities and Exchange Commission (SEC) by verifying and reserving your proposed company name through the SEC's online portal.
You may reserve the company name online, but make sure to confirm your registered name at any SEC office within four (4) days.
2. Submit the required documents to SEC

Cover Sheet for Registration
Payment Confirmation of Reservation
Articles of Incorporation
By-Laws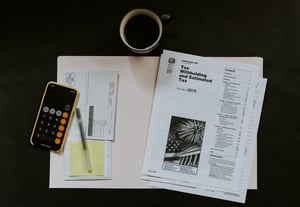 3. Obtain the following documents from the Bureau of Internal Revenue (BIR)
Secure the following official documents from the BIR:
BIR Certificate of Registration
Registration Certificate of Books of Accounts
Cash Register Machine (CRM) or Point of Sale Machine (POS) or Authority to Print Receipt/ Invoices (Manual Receipts)
4. Obtain business permits from Local Government Units

Secure a Barangay Clearance from the Barangay Hall
Secure a Business Permit to Operate from the Business Permit and Licensing Office (BPLO) and pay the dues
Secure a Mayor's Permit from the Mayor's Office
5. Register your company for mandatory requirements
Social Security System (SSS)
Philippine Health Insurance Corporation (PhilHealth)
Home Development Mutual Fund (Pag-IBIG Fund)
You can also download this infographic so you can have a handy reference. Just hover over the image and right-click and select "Save Image As…" if you're on desktop. On mobile, long-press the image to download the photo.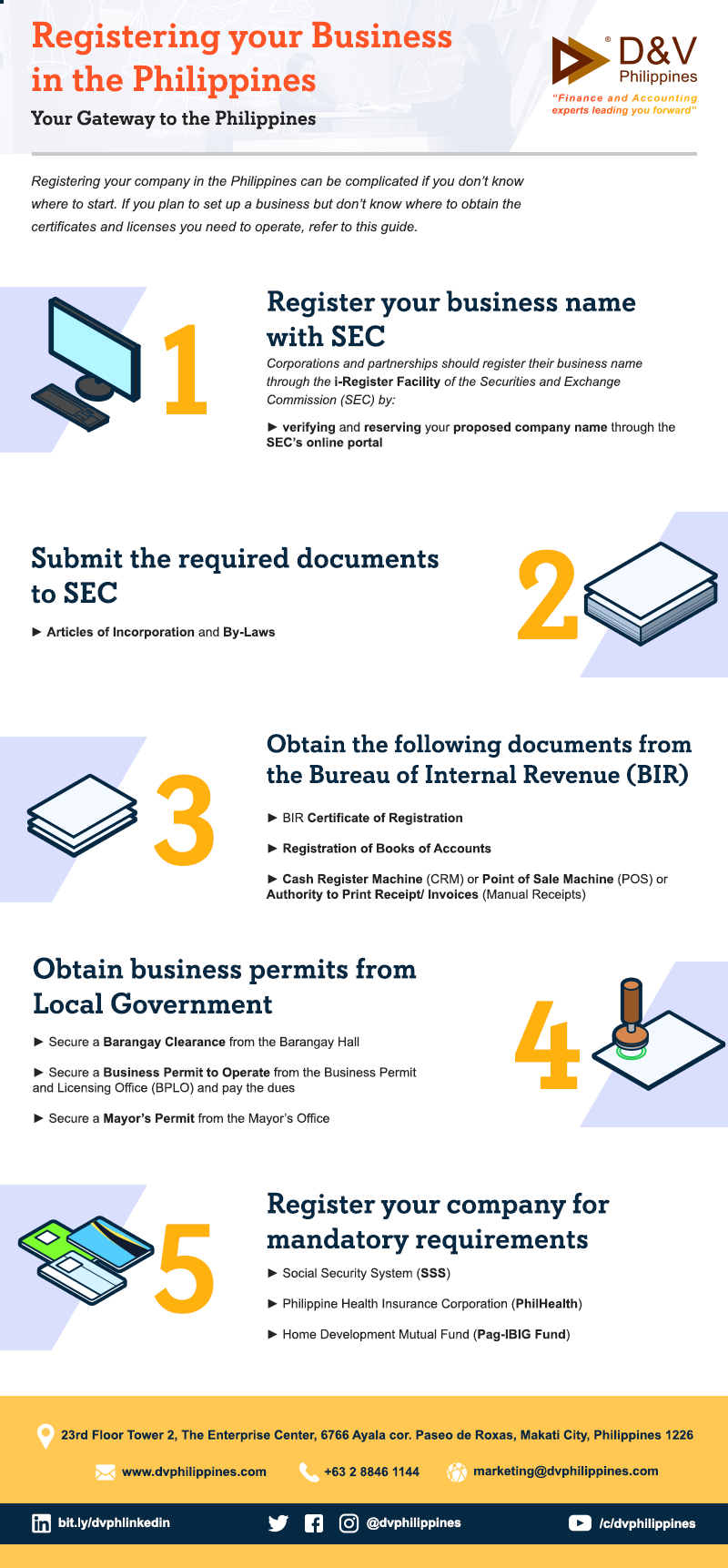 Your Gateway to the Philippines: Registering your Business in the Philippines
If you need a finance and outsourcing partner in the country, look no further than D&V Philippines. We have helped foreign companies get started in the Philippines. We'll ease your burden and take the headache out of the business registration process.
Learn more about our comprehensive services for foreign entities starting a business in the Philippines. Read our ebook A Startup's Gateway to the Philippines to find out more.