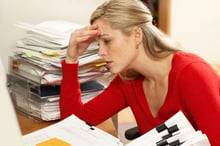 First, a fact: When you miss online tax return deadlines, you incur a £100-penalty. Now, extend it for three months and your penalty increases by £10 a day, incurring a £900-penalty. If you ignore this and extend 3 months more, a 6-month overdue will cost you £300 more or 5% of the tax due (whichever is greater). Sum this all up and you get a whopping £1,200 – money that could have been your profit.
As a small business owner, you can protect yourself from these hefty penalties and sustain the profitability of your business. Here are some tax planning tips you can consider:
Attend to your paperwork
For your self-assessment, ready your P11Ds, P60s and other paperwork. It is also advisable to contact your bank and get your interest statement for the 2013/14 tax year and include it with your other sources of income such as shares and properties.
Register online
For some people, deadlines could be hard to keep. For you to get your notifications, register for the HRMC online services and get the latest updates and news regarding tax payments and provisions.
Get your personal numbers correct
These numbers refer to your National Insurance Number and Unique Taxpayer Reference (UTR). Make sure that you get these right and include these in your documentation.
Include all supplementary pages
Supplementary pages are for any additional income that is not covered by the main tax return. The following information1 may be pertinent to your tax filing:
Interest from gilt-edged and other UK securities, deeply discounted securities and accrued income profits

Life insurance gains

Stock dividends, non-qualifying distributions or close company loans written off

Post-cessation receipts

Income from share schemes

Lump sums or compensation payments from your employer, or foreign earnings not taxable in the UK

Taxable lump sums from overseas pension schemes

Certain employment deductions

A claim to age related Married Couple's Allowance

Other tax reliefs not found in the main part of your tax return

Loss relief claims

Income from property
Declare correct numbers
Aside from late filings, you can also incur severe penalties if you don't declare all of your relevant income and Capital Gains. You can also be subjected to prosecution if the error is seen as deliberate, like intentionally not declaring a particular income source. These numbers1 include:
Income from employment

Benefits including maternity/paternity pay, statutory sick pay, job seekers allowance

Pension income

Interest, dividends from savings, bank accounts, building societies investments or Trusts, etc.

Property income

Foreign income including evidence of tax already paid abroad

Capital gains

Employee share schemes

Dividends
Hire an expert
Protect your investment through careful and thorough tax planning. If you are not so sure that you could vouch for the accuracy and validity of your requirements, have an expert to go through all the information you are to submit to the HRMC.
Do you need advice about your business taxes - and someone to take care of your tax planning? D&V Philippines adheres to no less than the highest standards in day-to-day general accounting and bookkeeping. Take a look at the scope of our bookkeeping service here, or download our Solutions for Start Ups whitepaper and learn about what finance & accounting solutions we can do for your business.