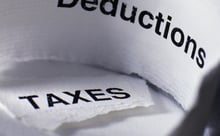 As a business owner, complying with your tax obligations is an important aspect that may affect the success of your business. Aside from the more pressing issue of paying for your taxes, you have to file them first. Unfortunately, filing taxes is not as easy as it sounds. There are many forms that needs to be filled out; important information that need to be provided. One wrong move could get you penalised by the HMRC. The good news is, there are a number of tips that can help you file your returns more effectively. Here are some of them:

1. Hire a bookkeeper.
A bookkeeper can help keep track of your income. This will make it easier for you to report them come tax season.

2. Prepare in advance.
Make the necessary preparations for either paper or online tax returns. Deciding which way to file is a good first step.
3. Check the guide.
Use a Tax Return Booklet to guide you. This is especially useful if you are not used to filing your tax returns on your own.
4. Finalise payments.
Pay the total sum of your tax bill before the deadline to prevent further issues and conflicts with the HMRC.
5. Seek professional tax services.
Seek professional tax advice if you want to put a tax planning strategy in place.
While a lot of corporate taxpayers prefer online tax payment filing, there are still some who choose to file through paper. If you are an ardent fan of paper returns, here are some very basic reminders that you need to keep in mind:
Filing paper returns require filling out several documents. Make sure you have the correct documents at hand. You can download forms online if your documents are incomplete.


Do not forget to sign your name on the document if you are filing by paper.


Write legibly to avoid errors.
Completing your tax returns ahead of time will save you a lot of time. Get yours done today. Or better yet, seek the help of tax experts to assist you with effective tax planning strategies.
Click here for more information about our tax services. Or better yet, check out our whitepaper on Solutions for Startups (and other growing businesses) and learn about what finance & accounting solutions we can do for your business today.