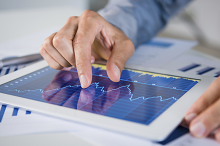 So it's 2015 and you have finally come around to choosing a cloud-based accounting system to improve your current financial and accounting services. By now, you have probably discovered that most cloud accounting platforms offer bank reconciliation and invoicing features. In our previous blog, we even discussed Xero's Expense Claims feature and how you can maximise its use. But if you think that is all there is to shifting your accounting systems to the cloud, you're wrong. In fact, there are certain cloud accounting features that you have probably overlooked. Here are some of them:
Advanced payroll systems
While startups merely require basic payroll functions, it's a different case altogether for growing businesses. As it is, businesses with growing revenues usually require more people to keep the business running smoothly. The more employees they have under their wing, the more complex the company's payroll processes become. And this is where advanced payroll systems come in.
If your business is looking for advanced payroll features, you can count on Xero to step in and give a hand. This feature even includes tax and leave calculators for easier and more accurate computations.
Smart and seamless reports
One of the plus sides of using cloud systems is the easy generation of reports. Through the cloud, you can easily take a look at your financial statements. But did you know that you can access these reports in real time? This means you won't have to wait for the end of the month to see your actual numbers. Through Xero, you can access your financial data anytime you want.
Imagine a situation where you need to verify your net worth for expansion or investment opportunities. Wouldn't it be more convenient to make such critical business decisions with actual figures at hand? This is exactly what Xero offers.
Customised templates
A lot of businesses nowadays take great pride in their company branding, to the extent that even the invoices they send out need to identify with their brand. With Xero, you won't have a problem with this. Xero offers an option where you can either use your professional invoice templates or design your own customised invoice - if you don't already have one. This way, you can bill your clients on time while continuously establishing your brand identity.
Cloud accounting systems do not come cheap. Therefore, maximising its use by exploring all of its available features is a good practice.


Want to explore cloud accounting systems further? Get in touch with our accounting professionals at D&V for more information.