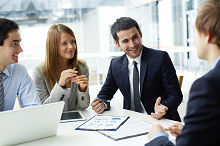 The New Year is the most opportune time to do things better. This same perspective is the main reason why entrepreneurs are always on the lookout for great ideas to improve the course of their small business financial planning come January.
How has your business performed the past year? Good for you if you did well in 2014. Do not fret if your annual revenues show otherwise. You can still keep your business on track! How about starting on that strategic business financial planning for 2015? Here are some tips you can learn a lot from:
1. Build a cash reserve.
The rule of thumb is to always keep your business capital up. Running a business does not come cheap. Therefore, you must always have some available cash to spend for inevitable emergencies that go beyond your regular budget. The immediate purchase of raw materials and additional payment for tax liabilities and business maintenance overhead costs are just some of the expenses you need to watch out for.
2. Manage existing debts.
Paying off your debt is necessary when you are running your own business--this is an understatement. When you operate your own enterprise, existing debts are not just an added strain to your budget, it can also keep you from getting that approved business loan. However, if debts are inevitable, at least make sure that you are managing them well by paying on time.
3. Spend resources wisely.
It's easy to get lured into buying new things for your business, especially at that point where you feel that you need a lot of new stuff to keep your business going. Keep in mind, though, that overspending is a major culprit in mismanaged business finances. Our advice: think twice before spending those hard-earned dollars.
4. Keep personal and business finances apart.
Many business owners have the notion that putting personal and business finances together is a good idea. The truth is, this practice actually complicates your finances. To manage your expenses and tax payments better (and to keep your assets more secured!), the rule of thumb is to separate personal and business finances.
5. Seek professional advice.
Contrary to how it seems, you can't save money by planning your finances on your own and ignoring the need to consult an accountant or tax adviser. In fact, you can put your finances to better use if you manage what you own more strategically and pay taxes correctly with the help of an adviser.
These basic tips can help put your business finances right on track. For more recommendations on how you can keep your business capital up, contact our D&V advisers.